For a horse with a moderate first-up record, Flow certainly signalled he's in for a fruitful winter campaign after his gutsy fresh win at Rosehill on Saturday.
And it's a race that may well serve as a strong form reference with Punters Intel data showing three others behind him produced pleasing efforts.
Flow's final sectionals don't look all that flash, last 600m in 35.96 and last 200m in 12.14, but it was early in the 1400m race that his splits stand out.
The Godolphin galloper had to do a decent about of work early, including a 10.95 from the 1200m-1000m, to find the lead and was able to hold off the late closers.
They included Invinzabeel who ran the fastest last 200m of the race in 11.92 while both he and Flow's stablemate Farolitos shared the fastest last 600m of 35.45.
It's also worth noting Prometheus ran the quickest first 200m of 13.92 and his final sectional would likely have been better than the 12.20 had he not been tightened up and taken hold of late.
All four horses are early in their preparations and have upside about them.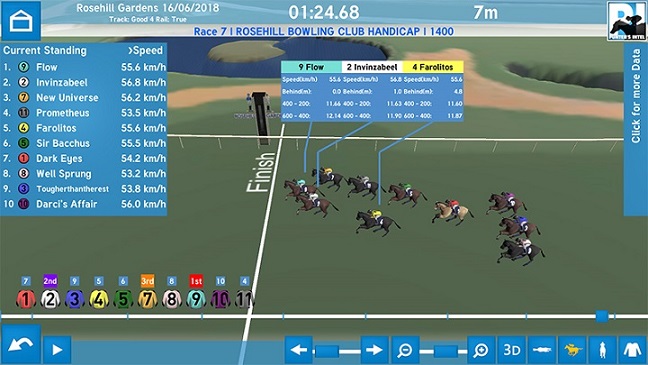 It wasn't a particularly fast day time wise despite a couple of upgrades in the track condition so Redouble's effort to run the best last 600m in 34.20 is noteworthy.
In fact the gelding, who was first-up and is not a noted 1100m horse, was over 20m off the lead midrace and had to do too much work to make up the leeway, running 11.25 from the 600m-400m, and just blew out in the latter stages.
He ran 11.80 for the last 200m whereas the winner Albumin clocked 11.52 in an overall last 600m of 34.34. The grey is certainly flying.
Redouble has a fair at best second-up record on paper but last prep he had cardiac arrhythmia second-up before he won his next two starts.
Beaten favourite Gresham was the centre of plenty of post race talk after he was a beaten favourite in the Ascot Restaurant Sale Handicap (1400m).
Much of the Gresham tale can be told in the first 400m of the race where he ran 13.74 out of the gates then burned to an 11.03 from the 1200m-1000m and that's where the damage was done. His last 600m was a relatively slow 35.77.
The two horses involved in the early speed battle with Gresham, Sweet Victory and Intuition, finished some 5m and 8m behind him.
Two others to standout from the Punters Intel data were Hemmerle and Imanui.
Hemmerle was 36.6m from the lead at the 1000m of his 1800m race and it was an impossible task for him from that point.
He ran the fastest splits from the 1000m-800m (12.27), 800m-600m (12.06) and 600m-400m (11.95) and still clocked the second fastest last 600m of 36.41 but the head start proved costly.
Imanui was first-up over an unsuitable 1300m but made a more than pleasing return after conceding 27m in the early stages to produce the third fastest last 600m of his race in 34.87.
Fastest last 600m: Redouble 34.20.
Most ground covered (to place): Pianissimo +12.5m.
Don't miss Punters Intel with Gerard Middleton, Brad Davidson and Brad Gray on Sky Thoroughbred Central at 7pm every Tuesday.