Occasionally a performance in the winter months unveil a talent that can make the leap to bigger and better things and we could be dealing with such an example in Seahampton's amazing win at Randwick on Saturday.
Simply, the Chris Waller-trained filly had no right to win the TAB Rewards Handicap (1400m) but Punters Intel data shows us just how superior she was.
Seahampton conceded about 22m to the leaders at the 800m and even as she wound up she was still 12m off the eventual runner-up at the 200m.
She ran her last 600m in 35.79, which was 0.21 quicker than any other runner, including 11.60 (400m-200m) and 12.13 for her last 200m and that was superior by 0.22.
There's no doubt she's even better on top of the ground too.
Out of the same race, even though it may not have looked it to the eye, Island Missile did enough to warrant staying on his back next time – perhaps from a better draw.
While Seahampton was the only horse to make any significant ground in the race, Island Missile ran the second fastest last 600m in 36 seconds, and last 200m in 12.35, closer to the inside.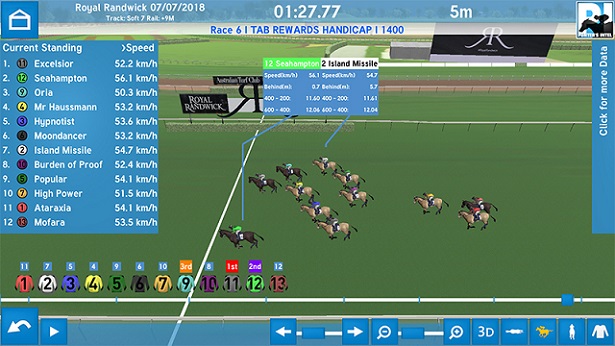 Bella Success is another filly from the Waller stable to throw her hand up as a horse to follow as she ran the equal best last 600m of the day (35.31) in the Randwick Mayors Cup (1100m).
Her last 200m was run in 12.25 and it's worth noting she was scratched from a 1400m event on the same day so expect her to step up in trip now.
Victorian galloper Curragh caught most people's eye charging into third in the Wallaby Cup (1800m) after striking some traffic at a vital stage.
He was about 24m off the lead at the 800m and clocked the fastest last 600m of the race running 36.38. Considering he was the only horse to break 12 seconds (11.93) from the 600m-400m before his momentum was stopped he should have finished closer.
Highway winner Highway Sixtysix may have looked unimpressive to the eye, and the final 600m was only a moderate 37.17, but her effort had plenty of merit.
She was first-up since November and forced to lead into the wind, she ran 13.77 for her first 200m and 11.40 for the following 200m to establish herself in front and class clearly got her home.
No doubt she'll improve off that win.
Imported galloper Invictus Prince made a promising Australian debut in a 1300m event, a trip well short of his best overseas efforts, and will be worth looking out for.
He had an interrupted run home so his last 600m of 36.83 and last 200m of 12.70, while third best of the race, could look a bit better.
Fastest last 600m: Tip Top/Bella Success 35.31
Most ground covered (to win): Philosophy +10.2m.
Don't miss Punters Intel with Gerard Middleton, Brad Davidson and Brad Gray every Tuesday on Sky Thoroughbred Central at 7pm.