The sky's surely the limit for Godolphin's impressive import Avilius after his clock-busting Australian debut at Randwick on Saturday.
The five-year-old served notice that he's a real talent with a booming finish from near last over a mile and his Punters Intel data out of the race is compelling.
Only two horses all day ran a faster last 600m and they were in sprint races, Avilius ran 32.66 which was 0.46 seconds faster than anything in his race.
He conceded 24m midrace, covered an extra 11.4m overall and was responsible for the fastest last 200m of the day in 10.95 and last 400m of 21.59.
There was also a hidden handy Australian debut from the Chris Waller-trained Brimham Rocks, who ran third behind Avilius.
He raced a bit closer and his last 600m of 33.19 was the third best of the race, as was his last 200m of 11.17.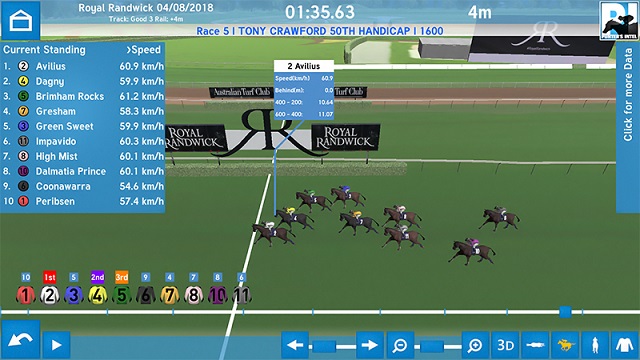 The Group 2 Missile Stakes (1200m) lived right up to its pre-race hype and, probably not surprisingly, it was Lanciato who produced the best splits of the race in running fourth.
His last 600m of 32.60 was the second best of the day and his 10.92 (600-400), 10.65 (400-200) and 11.03 (last 200m) were the best for their respective 200m splits.
Lanciato's next assignment is the Group 3 Tramway Stakes (1400m) on September 1 – he's unbeaten second-up - where he could meet Missile winner Pierata.
Pierata ran his last 600m in 32.96 while runner-up Kementari hit the line in 32.78. Kementari's final 200m was 0.22 seconds quicker than Pierata, backing up what the eye saw that he really motored late.
The trio were the only horses in the Missile to break 33 seconds.
Godolphin mare Soothing was responsible for the best last 600m of the day as she spanked her rivals in the 1000m dash to close the program.
She sailed home in 32.37 and bigger and better things could be in store for her in the coming months.
The three-year-old event to start the program contained a couple of interesting runs.
The winner Military Zone did a huge job to round up the field from the tail, running 32.99 for his last 600m. His last 200m of 11.03 matched that of Lanciato later in the day.
Danawi, who failed by a nose to hold off the winner, did a little too much work in the early stages so his run had plenty of merit.
He ran 13.78 from the standing start then 10.84 from the 1000m-800m, easily the fastest for that section, and was far from disgraced.
Down at Kembla Grange, Group placed colt Spin shook off the maiden status with Punters Intel showing he ran his last 600m in 34.25. He sprinted nicely from the 400m-200m in 10.91 then coasted to the line in 11.64.
Fastest last 600m: Soothing 32.37
Most ground covered (to win): Avilius +11.4m.
Don't miss Punters Intel with Gerard Middleton, Brad Gray and Adam Pengilly at 7pm on Sky Thoroughbred Central this Tuesday.