For a mare considered some doubt at a strong 1400m, Sexy Eyes blew that theory out of the water with her dynamic win at Randwick on Saturday.
Punters Intel data reveals just how superior the four-year-old was in the Schweppes Handicap and it's also worth noting she recorded the fastest overall time of the four 1400m races on the day.
Her last 600m of 34.44 was a full second faster than any other in her race, an amazing figure considering how easily she looked to be travelling.
When Tommy Berry released the breaks her last 200m of 11.91 was almost a half second faster than the next best and exactly half a second quicker than the runner-up.
Sexy Eyes carries the Magic Bloodstock colours of Winx and her win was a little Winx-like in its arrogance but it showed two things – she's no question mark at 1400m and she can win again.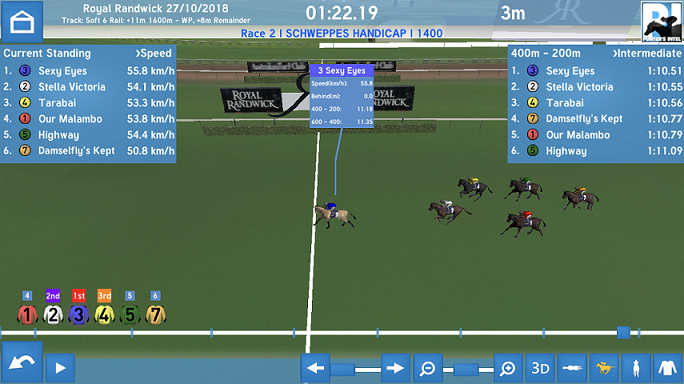 It's been over 18 months since Spectroscope burst onto the scene with a couple of wins prior to the 2017 Doncaster but the Godolphin import showed he could be in for his best preparation since then with a sound first-up third on Saturday.
While he ran only the third fastest last 600m of the 1400m event, behind the first two home, he loomed up running the fastest 400m-200m of 11.10 before knocking up late.
Given the winner Torgersen managed to run the fastest 200m splits for all others in he last 1000m of the race it shouldn't go unnoticed that Spectroscope broke that run and by 0.08 seconds.
He's probably proven himself to be about a Group 3 class horse and a win isn't far around the corner for him if he can improve off this run.
If you thought Single Bullet was shot out of a cannon over the last 200m, as it looked to the eye, that's not far off as he clocked the day's fastest last 600m and last 200m.
Despite being held up early in the straight he reeled of 33.19 for the last 600m and once pulled to the outside he shot home in 11.43, 0.28 faster than runner-up Revenire who himself had run the fastest 400m-200m of 10.91.
The question now is, can Single Bullet preproduce such a performance?
Chaussure was responsible for one of the runs of the day though his times probably don't quite reflect it.
First-up from a two-year break at 1400m he was always going to be vulnerable but you could argue he probably should have won, or at least gone close, had he not struck trouble on the turn instead of running fourth.
He did manage the second fastest last 600m of 35.69 behind the winner Gitan and the fastest last 200m of 12.20 as he got within three-quarters of the winner on the line.
The small query is that his 1400m event was the slowest run of the four on the day but he no doubt has plenty of room for improvement.
Fastest last 600m: Single Bullet 33.19
Most ground covered (to win): Aqua D'Ivina +9.5m
Don't miss Punters Intel with Gerard Middleton, Brad Davidson and Brad Gray at 7pm Tuesdays on Sky Thoroughbred Central.