When it comes to Winx, sometimes what you see on the track doesn't tell the full story about just how amazing she is.
On a day where it was tough to make ground from the back down the outside, Winx did just that and Punters Intel data illustrates her sheer power and speed.
She easily clocked the fastest last 600m of the day, running 32.33 in taking out the Group 1 Winx Stakes (1400m).
At the 400m the champ was conceding the lead 15m then she balanced up and ran 10.48 from the 400m-200m and was the only horse to break 11 seconds for the last 200m with her 10.79.
And only third placed D'Argento covered more ground than her in the race (an extra 0.6m).
She's just too good!
Behind Winx there's plenty to talk about and take forward into the spring.
While there was plenty of attention on the runner-up Invictus Prince (last 600m of 32.88) it's Winx's classy four-year-old stablemates D'Argento and Unforgotten who really stamped themselves as big players in the months ahead.
As mentioned, Rosehill Guineas winner D'Argento covered the most ground in the race which adds merit to his 32.85 last 600m.
There's plenty of parallels between the performances of the stablemates as Unforgotten also ran 32.85 for her final 600m and the pair also clocked identical times (10.73) from the 400m-200.
Unforgotten was coming off just the one trial so she's likely to be open to more improvement.
Another of the Waller brigade to impress the clock was the stayer Libran who managed the second fastest last 200m of 11 seconds flat and the second best last 600m of 32.77.
That says he's come back in good order, while he may not be ready to win next time around he's one to keep on your radar.
And Ace High might have run last but he still managed to run 33.41 for his last 600m.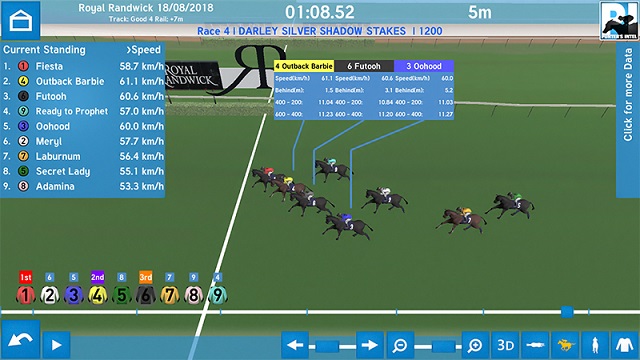 It's going to be a very interesting rematch between some smart fillies when the Furious Stakes rolls around in a couple of weeks after what unfolded in the Group 2 Silver Shadow Stakes (1200m).
No knock on the winner Fiesta but she did have all the favours.
Runner-up Outback Barbie had a hard luck story to tell, she stepped slowly and was badly held up in the straight but she ran a slick 11.23 for her last 200m and 33.50 for her last 600m.
Third placed Futooh really caught the eye as she weaved through from the back, clocking the fastest last 600m of the race in 33.33 and the best 400m-200m of 10.84.
And we shouldn't forget Oohood who had to come widest to make her run, covering an extra 4.5m, and she flattened out with a 33.61 final 600m.
Ex-Kiwi mare I Am Coldplay made a promising Australian debut in the Toy Show Quality (1300m), especially considering where she made her run, and she's definitely one to follow.
She ran the fastest 400m-200m of 10.94 then just knocked up a little with an 11.33 last 200m as she rushed home alongside third placed Nettoyer (33.89/11.29 last 200m), who is getting ever closer to an elusive win.
A couple of other horses worth highlighting are Godolphin import Best Of Days, luckless in the final event at his Australian debut, running the best 400m-200m in 11.03 and his last 200m of 11.28 was outstanding considering he was going sideways and held up for half of it.
And out of the Highway there could be a win in another import, the Danny Williams-trained Biodynamic. He was the only horse to break 35 (34.93) for the last 600m in the Highway and ran the best 400m-200m of 11.41 as he came from last down the outside.
Fastest last 600m: Winx 32.33
Fastest 200m split: Siege Of Quebec 10.45 (1200m-1000m)
Don't miss Punters Intel with Gerard Middleton, Brad Gray and Adam Pengilly at 7pm Tuesday on Sky Thoroughbred Central.