Thirty one metres.
That's the margin tearaway Villiers leader Cabeza De Vaca opened up, at its greatest, as Josh Parr tried to run his rivals into the ground in the Randwick feature mile on Saturday.
The 31m gap was around the 500m mark, according to Punters Intel data, and even by the 200m as he started to paddle he was still 19.6m ahead of eventual winner Crack Me Up.
And spare a thought for favourite Interlocuter who trailed by 45m nearing the 500m!
It's been well documented that Cabeza De Vaca broke 11 seconds for three consecutive 200m splits in the middle stages.
He ran 10.69 (1400m-1200m), 10.81 (1200m-1000m) and 10.99 (1000m-800m) so not surprisingly he staggered home in 13.61 which was easily the slowest final 200m.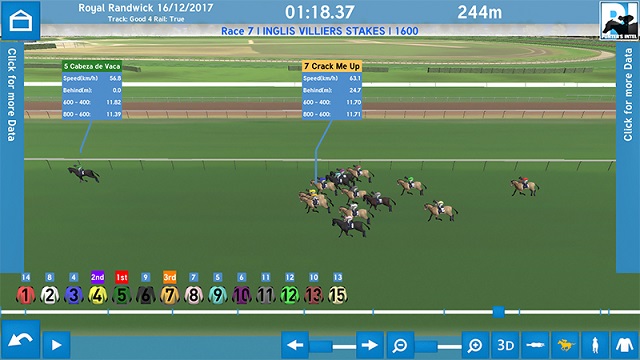 Also noteworthy out of the Villiers was the performance of Mister Sea Wolf in running fifth.
He clocked the fastest last 600m of the race of 35.06 and his last 200m was equal quickest with Salsonic in 12.22. The import will be one to keep an eye on the autumn.
The second most talked about race at Randwick was the TAB Highway (1000m) won by Victorem.
His tale is best told by looking at his first 200m of 13.27 – he was slowly out and bucked for a couple of strides before doing a lot of his work in the middle stages.
Victorem's 34.18 was the fourth fastest last 600m and his last couple of splits of 11.27 and 12.22 were fair but understandable given what he had to overcome early.
Fourth placed Elle's Nel ran the fastest last 600m of the race in 34.09 and covered an extra 5m compared to the winner.
A couple of other runs to note:
- Calculated's first-up second behind Savatiano had plenty of merit and the PI data showed he was doing his best work in the last 200m with an 11.45 seconds split.
- Two-year-old Sanctimonius produced the best figures as he hit the line strongly late running a 34.44 last 600m and 11.95 for the last 200m, the only horse to break 12 seconds in the Inglis Nursery.
Fastest last 600m: Savatiano 33.44
Most ground covered (to win): Crack Me Up +13m.
The Punters Intel App is available for free via iTunes for apple devices and Google play for Android and from Racing NSW website for PC's.