The difference between winning and losing for short priced favourite Seasons at Randwick on Saturday most likely was what happened between the 1000m and 800m.
After appearing to be about to settle nicely outside leader Alassio she was forced to do that little bit more work as Fragonard kicked up inside her to keep her wide.
Consequently, as Punters Intelligence shows, Seasons ran the fastest section from the 1000m to the 800m of 11.18.
As they steadied and the race unfolded the mare quickened from running 11.72 (600m-400m) to 11.57 (400m-200m) but had nothing left at the finish as her 12.35 shows. Her last 600m of 35.64 was only the fifth fastest of the races.
Leader Alassio ran 36.08 for her last 600m in running sixth. Of those on the pace Seasons was the only one left kicking with first, third and fourth all settling in the second half of the field.
Not surprisingly, Star Refelection was able to scoot home in 34.77, matched by fourth placed Kawaikini, to spring the upset.
There was merit in third placed Savvan's effort though sectionally she wasn't a stand out. She ran 35.13 for her last 600m, third fastest of the race, and 12.13 last 200m, also third best.
She did race wide without cover for most of the event yet was looking strongest on the line.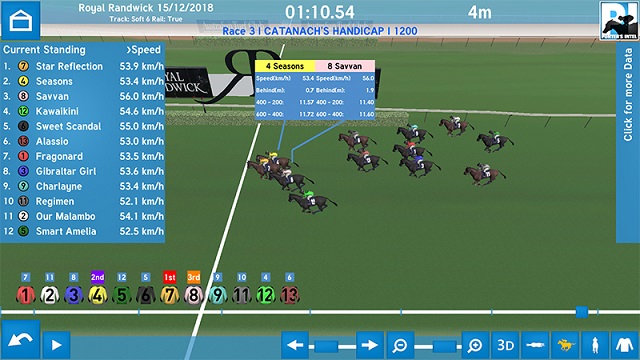 One of the big eye-catchers of the day was two-year-old Strasbourg in the $500,000 Inglis Nursery over the 1000m. Settling back and in traffic he was the only youngster to break 35 seconds for his last 600m (34.97) as he made up a 13m deficit from the home turn.
He clocked the quickest 400m-200m of 11.47 and last 200m of 12.14 and looks a horse with a bright 2019 ahead.
It was also hard to miss Aloisia's booming finish in the Villiers Stakes (1600m) after giving away 23m at the 600m.
She ran 35.82 for her last 600m, 0.47 faster than anything else, and 12.02 for the final 200m, 0.30 seconds quicker than the next best.
Winner Sky Boy's last 600m was 36.57 and he was entitled to stop a bit late after making his move before the 600m.
Mister Songman announced, yet again, he's looking for a bit more than 1100m after his solid on pace third behind Deprive.
Like Seasons, he was the last man standing of the on pacers in his race as he ran his first 500m in 30.04 then finishing in 34.31 for the last 600m.
By comparison, Deprive's first 500m was 30.48 while his final 600m was the day's best of 33.76 and he covered less ground than Mister Songman in the run.
Stayer Berdibek produced a pleasing first-up effort over 1400m suggesting he might be about to strike form in the near future.
It was only his fourth start for John O'Shea and he's had a stop-start year but he easily clocked the best last 600m of his event in 35.77 as he worked home from last into sixth place.
Fastest last 600m: Deprive 33.76
Most ground covered (to win): Our Century +11.1m, Sky Boy +11m.
Don't miss the final Punters Intel for 2018 with Gerard Middleton, Brad Davidson and Brad Gray at 7.30pm Tuesday on Sky Thoroughbred Central.