By Greg Prichard
TAB is convinced huge punters who have bet enormous amounts on Winx at tiny odds this campaign will come again one last time for the mighty mare.
In fact, rather than think some of the six-figure bettors might get a bit nervous about risking a massive loss in one last throw of the dice, TAB representatives confidently predict Saturday's Longines Queen Elizabeth Stakes will end up as the biggest fixed odds crack at Winx ever.
The biggest fixed odds win hold on Winx was in last year's WS Cox Plate – a figure of $3,104,517. The hold on her most recent win – in the George Ryder Stakes at Rosehill – almost matched that, coming in at $2,954,481.
There were nine six-figure bets on Winx in the Ryder at odds ranging from $1.05 to $1.10. The biggest was a whopping $345,000 at $1.05 and the hold also included wagers of $259,000 at $1.06 and $230,000 at $1.06.
There have already been three six-figure bets placed on Winx to win the Queen Elizabeth - $150,000 at $1.10 twice and $150,000 at $1.08.
She was being quoted at $1.06 in TAB all-in betting before the final field for the $4million Group One event over 2000m was declared.
More big bets are expected, and they started on Wednesday with one TAB punters investing almost $250,000 at $1.06, in the wake of the final field being confirmed as Winx prepares to try to end her fabulous career with yet another win that would be her 33rd in a row.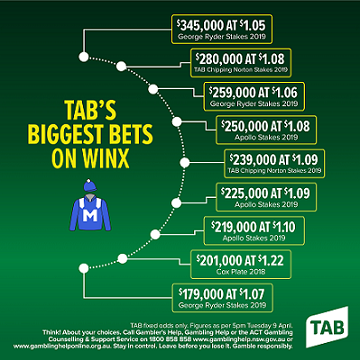 Asked if he thought the biggest punters were getting ready to move on Winx, TAB's Gerard Middleton said: "Absolutely, I'm sure. I'd be shocked if they didn't, to be honest. I mean, this is the last chance for the punters to make their mark with Winx.
"We saw similar things towards the end of Black Caviar's career, the big punters just wanted to be on. It didn't matter what price, they just wanted to open the shoulders.
"I don't think the big punters who have been backing her are suddenly going to get nervous. Winx is really just racing against bad luck and Hugh Bowman manages to keep her out of trouble anyway.
"I don't know if she'll start any shorter than the $1.06 with Happy Clapper in the race. I don't think she'll get to as short as $1.05 as she did in the Ryder, but then again the avalanche of money might be that big that she just may.
"We won't be taking any risks with her. The big punters will be rolling up their sleeves for one last crack."
TAB's Glenn Munsie said those who have fearlessly bet huge amounts to win relatively small amounts on Winx see it as an almost no-risk transaction.
"The big punters will come again," he said.
"Why would you get nervous? Backing Winx is better than playing the stock-market and it's a quicker return.
"There's a risk in everything, but it would appear the only risk with Winx is that she falls over. You would like to be as sure of waking up tomorrow as you would be that they'll be playing their winnings up.
"I think the hold on her will get past $3 million easily. Even though she's 1.06 they'll jump on that."
All the fields, form and replays for Day 2 of The Championships at Royal Randwick