Hawkesbury Race Club will soon boast a new PolyTrack with construction on schedule for completion in mid-April.
The first dozers and heavy machinery from Abax Contracting rolled in just before Christmas and began transforming the aged sand track into an all-weather surface.
Few walks of the track have been more exciting for veteran track manager Jeff Haynes and Chief Executive Greg Rudolph than their first on the sand track.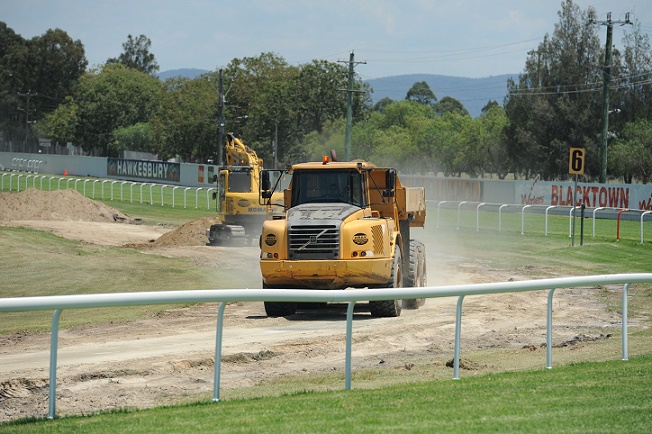 "The first truck crossed the course proper in early December and the workers were slick before the Christmas break to ensure the preparation was well underway," Mr Rudolph said.
"The latest works will focus on the existing sand track being widened, with fences now dismantled and the old sand being moved and stockpiled for alternative use on our existing sand circuits.
"From there, the drainage and base-layer works will be constructed and hopefully completed by mid-March."
A plan for the synthetic surface was submitted to Racing NSW a decade ago with investigations into the suitability of both the Hawkesbury grounds and base material leading to the decision to construct a PolyTrack in 2016.
The Australian Turf Club has installed a PolyTrack at the home of night racing, Canterbury Park, in anticipation of internationally-trained horses utilising the course for preparations when in quarantine for Sydney's leading race meetings, the Championships during the Autumn and The Everest during the Spring.
Domestic trainers have already firmly embraced the track for use all year round.
Feedback from leading trainers and jockeys has been exceptionally positive and the Gai Waterhouse and Adrian Bott team in particular have been impressed with how the surface handles the vigorous training regimes of the metropolitan area," Mr Rudolph said.
The alliance with Abax Contracting, who prepared the PolyTrack in use at Godolphin's stunning Osbourne Park training base in Agnes Banks, has also created a new sponsorship opportunity for the Club.
"Abax will be sponsoring a race on another of our feature race days, the Provincial Championships, on March 10," Mr Rudolph said.
With the PolyTrack on schedule, commitments to build 50 on-course stables will further enhance the Hawkesbury Race Club's commitment to providing outstanding training facilities fit for a provincial club of the future.