*All proceeds from the book will be donated to Pat Webster's nominated charity, the Salvos, Drug and Alcohol support. The book can be purchased at all good bookstores or online at – au.newhollandpublishers.com
DON'T DIE WONDERING IS THE STORY OF TRAINER PAT WEBSTER, THE FORMER BUSH JOCKEY FROM INVERELL, WHO FOUND SUCCESS IN SYDNEY DURING THE 1960S BEFORE A RACE FALL ABRUPTLY ENDED HIS RIDING CAREER
After a stint as a painter and docker on Sydney's shipyards, Pat Webster took out a trainer's license in 1978, and for the next 40 years, worked hard while he waited for a champion horse to enter his stable … Happy Clapper.
Happy Clapper, the gentle giant, became the first horse in history to win the 'Big Three' Randwick miles – The Villiers, the Epsom and the Doncaster – and provided his veteran trainer with the acknowledged stamp of approval … Group 1 success.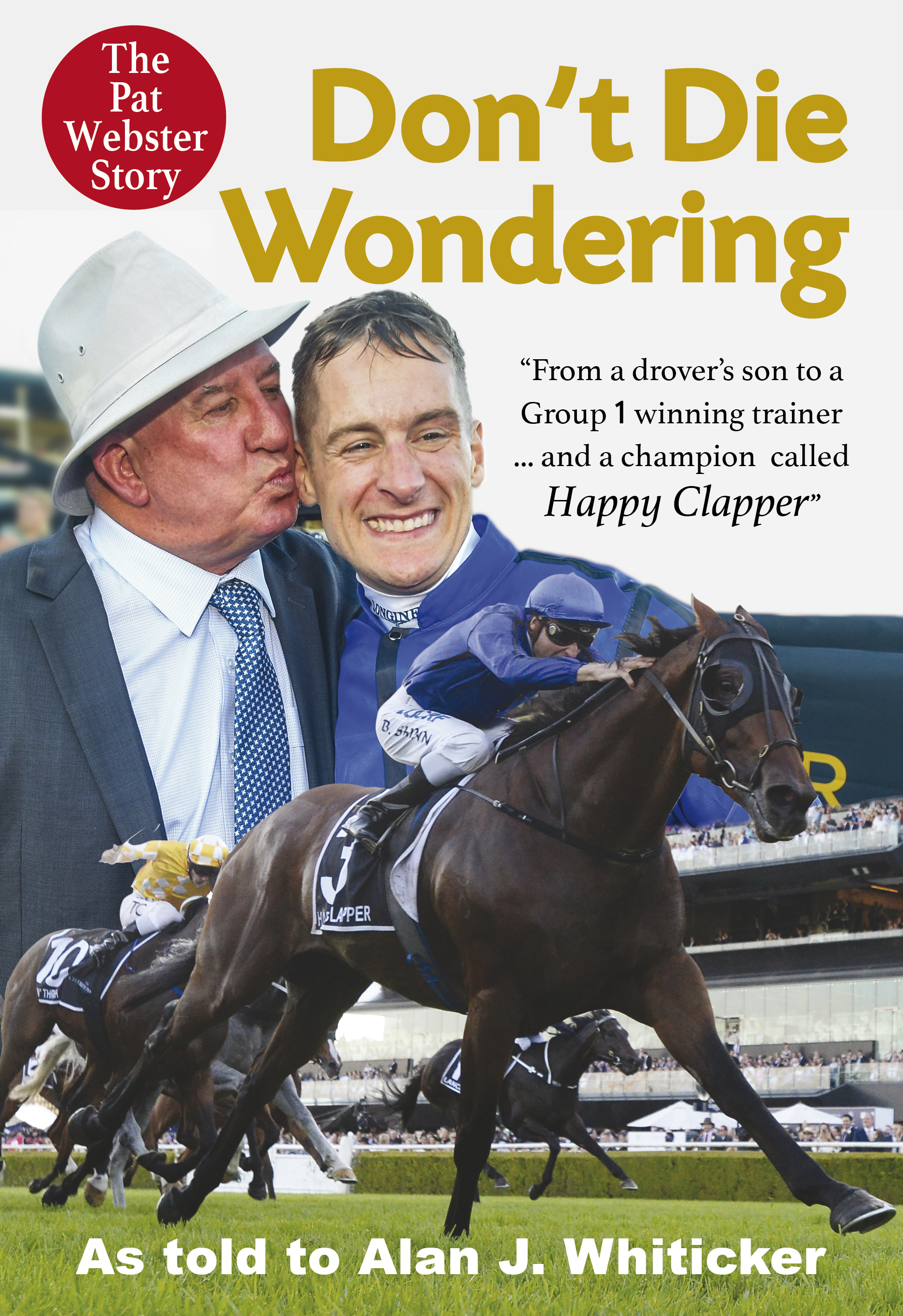 The irony is, having waited all his life for his champ, Pat's achievements could easily have been overshadowed by the deeds of 'super mare' Winx.
Happy Clapper took on Winx 11 times, running second to her on five occasions at Group 1 level, but the racing public took the gelding into their hearts. Now a nine-year-old and still racing, 'The Clapper' is the peoples' champ.
But just as importantly, Pat Webster is determined to give back to the sport that has given him so much.
An accredited drugs and alcohol counsellor with Racing NSW, Pat mentors young jockeys about the demands of their career – the perils of early success and access to too much money, and the influence of 'new' friends keen to earn a buck out of them and the impact of drugs, especially 'ice', on their lives.
Pat is also an ambassador for the Racing Mates initiative, which supports country racing communities struggling to survive in the most unforgiving of sports.
For the first time, Pat and wife Chrissy discuss the main reason for their willingness to help others – the 20-year battle they waged against their own son's drug addiction, Patrick jnr who battled heroin addiction and spent more than a decade in prison.
Patrick Jnr is now drug-free, but the Websters give a sobering insight into what their family had to endure.
"I found the Sallies [Salvation Army], when my family had troubles, they were the ones who came to the party," Webster said.
The one good thing that came out of that time was Pat and Chrissy's decision to raise Patrick's son Jack as their own … to be parents again in their 50s.
Don't Die Wondering is a uniquely Australian success story.
Pat Webster created a life for himself and his young family out of nothing – from a dirt-poor upbringing in country NSW to a successful trainer at Sydney's racing headquarters.
Along the way, he rubbed shoulders with millionaires and battlers, training winners and landing huge betting plunges.
Always determined to challenge himself, Pat and wife Chrissy opened a bottle shop, started pork ribs franchise and bought a farm to retain their ties to the bush.
With a foreword from millionaire Gerry Harvey, a racing stats section and more than 30 photos, the book also features breakout chapters from the point of view of Chrissy Webster, Patrick Webster Jnr and Jack Webster, along with Happy Clapper's owner-breeder Michael Thomas.
The book's writer, Alan Whiticker, said: "This book operates on several levels. It is a sporting biography with horse racing history and as a personal story, especially the chapters dealing with drug addiction.
"I believe this book will appeal to racing purists keen to understand the impact Happy Clapper and trainer Pat Webster has had on the horse racing scene.
"I also think the Webster family's struggles and the problems facing bush communities are very human stories that makes it appeal to a much broader audience."