Whether you believed in Santa or not prior to the TJ Smith Stakes, there is now no denying he is the real deal.
Santa Ana Lane annihilated his rivals on Day 1 of The Championships in a stunning display and his times were as dominant as he was to the eye, striding clear to win by 3.5 lengths.
The daring tactics on Redzel to run along in front (35.10s his first 600m), played into the six-year-old's hands but his last 600m of 34.86s was far superior to that of the next best, Osborne Bulls (35.36s). His real dominance came in the final 200m, posting a 11.89s. That was 3 lengths quicker than the next best which was 12.34s, clocked by both Pierata and Champagne Cuddles.
The story of the Doncaster Mile was that it was won in the first 400m. Glen Boss pushed the button to be positive from the wide draw on Brutal and when Fundamentalist handed up from the inside, Brutal and Dreamforce dictated the race, running a leisurely 49.44s for the first 800m.
Agassi went a length quicker than that in the Carbine Club Stakes were there were just 10 runners and looked to be, on paper, no designated leader.
That allowed Brutal to nip home in 35.76s his last 600m, which ranked fifth behind Kluger (35.69s), Dixie Blossoms (35.49s), Life Less Ordinary (35.61s) and Widgee Turf (35.75s). When a horse, particularly with 49.5kg on its back, is sprinting home like that from the front, there is no running it down.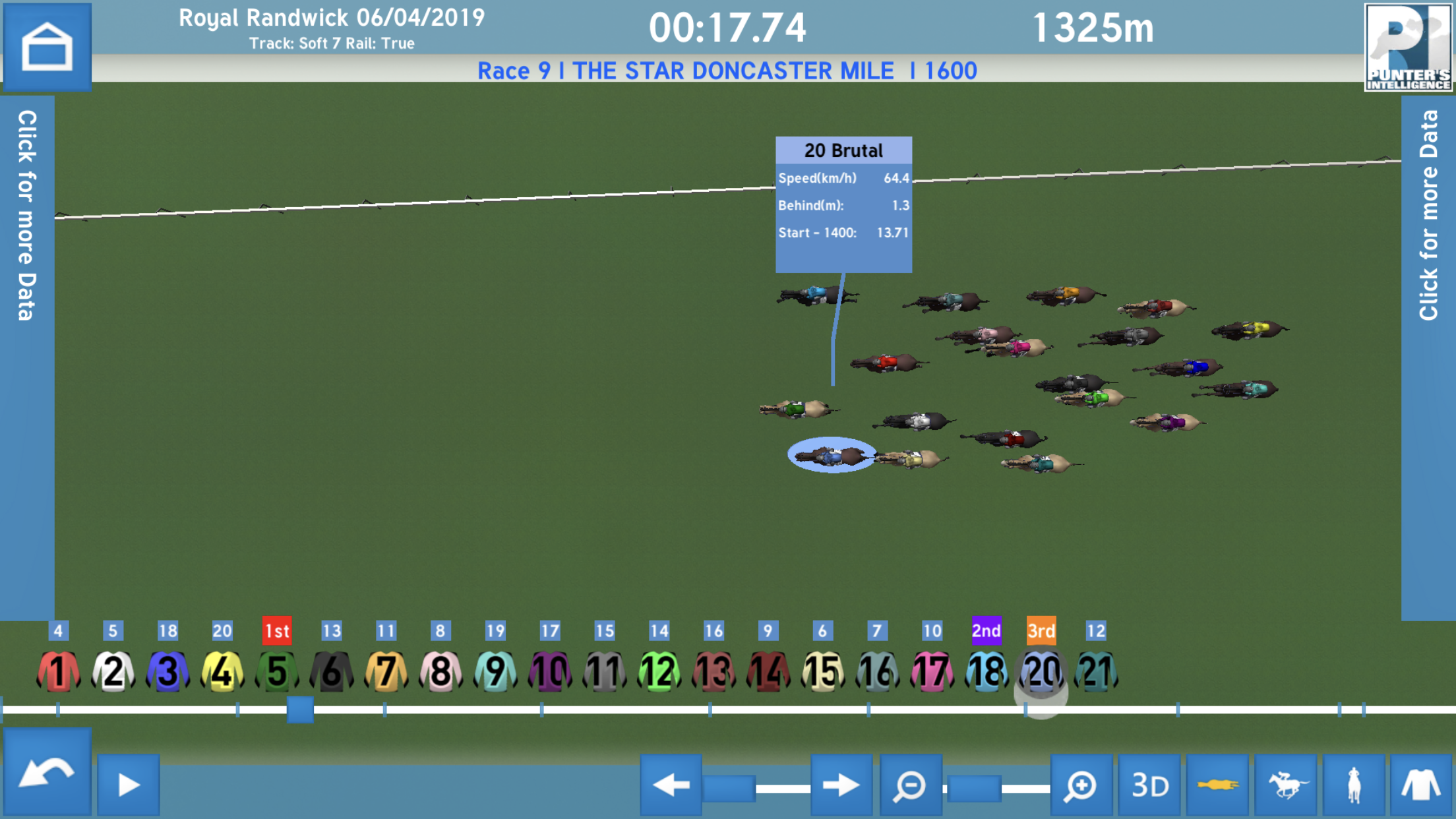 Some questioned Alizee running a strong mile prior to the race, despite winning the Queen Of The Turf and Flight Stakes as a three-year-old, and after she dashed quickly between the 400-200m (11.49s), only marginally slower than the quickest which was Unforgotten's 11.47s, she didn't run through the line with a last 200m ranking 17th. Maybe she is best kept to 1200m and 1400m nowadays.
Angel Of Truth's Australian Derby win was a repeat of his Tulloch Stakes win. The further they went there the stronger he got and that was the case once more on Saturday. His last 200m of 12.41s was the quickest in the race, despite leading. Madison County loomed menacingly between the 600-200m but couldn't sustain his run.
Given that 25 of the past 31 winners of the Champagne Stakes have come via the Sires' Produce, it's worth honing in on a few likely suspects. None were more obvious than Castelvecchio. Richard Litt's colt ran into the race like he was going to win it with a 400-200m split of 11.87s, compared to Microphone's 12.24s and Loving Gaby's 12.40s. He peaked noticeably the last 200m though, clocking 13.03s (Loving Gaby 13.03s and Microphone 13s).
Kiwi filly Probabeel was the only runner to break 13s for the last 200m in the race and the daughter of Savabeel gives the impression the mile would suit now.
Interestingly, Noble Boy won the Country Championships Final (1400m) in an overall time 4.5 lengths quicker than Microphone in the Sire's Produce. The was part due to Safe Landing running along in front in deceptively slick time but there was plenty of quality about Noble Boy's 36.64s last 600m.
Of the rest, it'll pay to follow Libertini off an outstanding debut splitting Godolphin pair Bivouac and Athiri in the Kindergarten Stakes. Anthony Cummings has a very handy two-year-old on his hands with the filly running the fastest last 200m and last 600m of the entire day, 11.79s and 34.61s, and she did it on debut.
Fastest last 600m: Libertini 34.61
Most ground covered (to win): Brutal (+11.2m)
Punters Intelligence returns to Sky Thoroughbred Central with Gerard Middleton, Brad Davidson and Brad Gray at 7.30pm on Tuesday.