By Mark Brassel
HE LOVES GOING ANYWHERE TO RUN HIS HORSES – A BUSHIE WHO REGULARLY CLOCKS UP 15 HOURS FOR A RETURN TRIP TO MANY NSW RACETRACK DESTINATIONS
Meet Wayne Marsden, a salt-of-the-earth stockman who hails from Menindee, a tiny outback settlement with a population of just over 500, located 112km south-east of Broken Hill and 1040km north-west of Sydney.
Marsden, 66, is a hobby trainer and supplements his passion with station work around the state border.
"I've always been involved in stock work and have been doing it for 20 years," Marsden said. "I usually muster on a motorbike but sometimes in a four-wheel drive. It's a bit isolated up here but I love it."
In mid-June, Marsden landed a winner at Narrandera with $51 roughie, Al Artois, following a six-and-a-half-hour drive from his home town.
"It was a TAB meeting so it was unbelievable to see him get home – it was one of my biggest wins!" he enthused. "I'm not a punter but my son (Jarrod) had a few dollars on him.
"He had finished midfield at Mildura the start before and I thought the run was better than many thought, so I gave him a definite chance to run a place. I've only won two TAB races, one at Narrandera and the other was at Griffiths with Three Rar last September."
Marsden is the sole trainer at the old Menindee Racecourse where he holds a long-term lease.
"I'm the only trainer left," Marsden declared. "It has the longest circumference of all New South Wales racetracks at 11 furlongs and 40 yards (about 2250m). It's black clay so it doesn't require watering. It's built on ash that came from the old steam trains."
As Menindee is so remote, it brings major problems to Marsden and his charges: "I do my own farrier work as there's not a farrier for miles.
"And it's tough if I need a vet's certificate or I'm required to barrier trial a horse. I have previously trialled them at Pooncarie and Broken Hill but I usually have to make up the trial with my own four horses.
"Generally, the Racing NSW Stewards are pretty good and help me out where they can. I have my own eight-horse truck and being so isolated you just have to travel – but I love it and love the driving!"
Marsden generally breaks up his long hauls on the way to raceday but likes to head for home straight after the races.
"We'd usually leave on the Friday and get within 100km of the course before resting the horses for an overnight stay," he explained. "But it's different getting home; we always do the return trip in one go as I don't want to miss a day's work at home, so we arrive late in the evening or early morning.
"I always make sure my horses get plenty of rest. And I'm not a believer of horses being couped up in boxes and locked up, so at home they have their own stalls that are about 30 by 40 metres. There's plenty of room to move at all times and they always seem happy."
The stable's operation is a family affair with Wayne's partner, Barbara, taking care of the bookwork, step-daughter Stephanie riding much of the trackwork and son Jarrod helping out on the track each morning.
"I really battled years back and trained mostly 'rejects'. However, I ended up getting a few decent horses from Sydney specialist, Dr Bernie Hudson. "My brother had to go and see Bernie in Sydney about six or seven years back and we started talking and it started from there.
"My best horse to date would have been Mack's Spot who I got from a trainer in Moruya. We won quite a few races with him including a couple of open handicaps at Balranald and a couple of races in Queensland."
Marsden said recent times have been tough due to the drought: "In my 60-odd years here it's as dry as I've seen it.
"It's hard right across the board as it's expensive to buy feed and they've got to be hand fed. I suppose I'm lucky I only have eight horses in work to feed. I live for these horses and we'll keep going as best we can."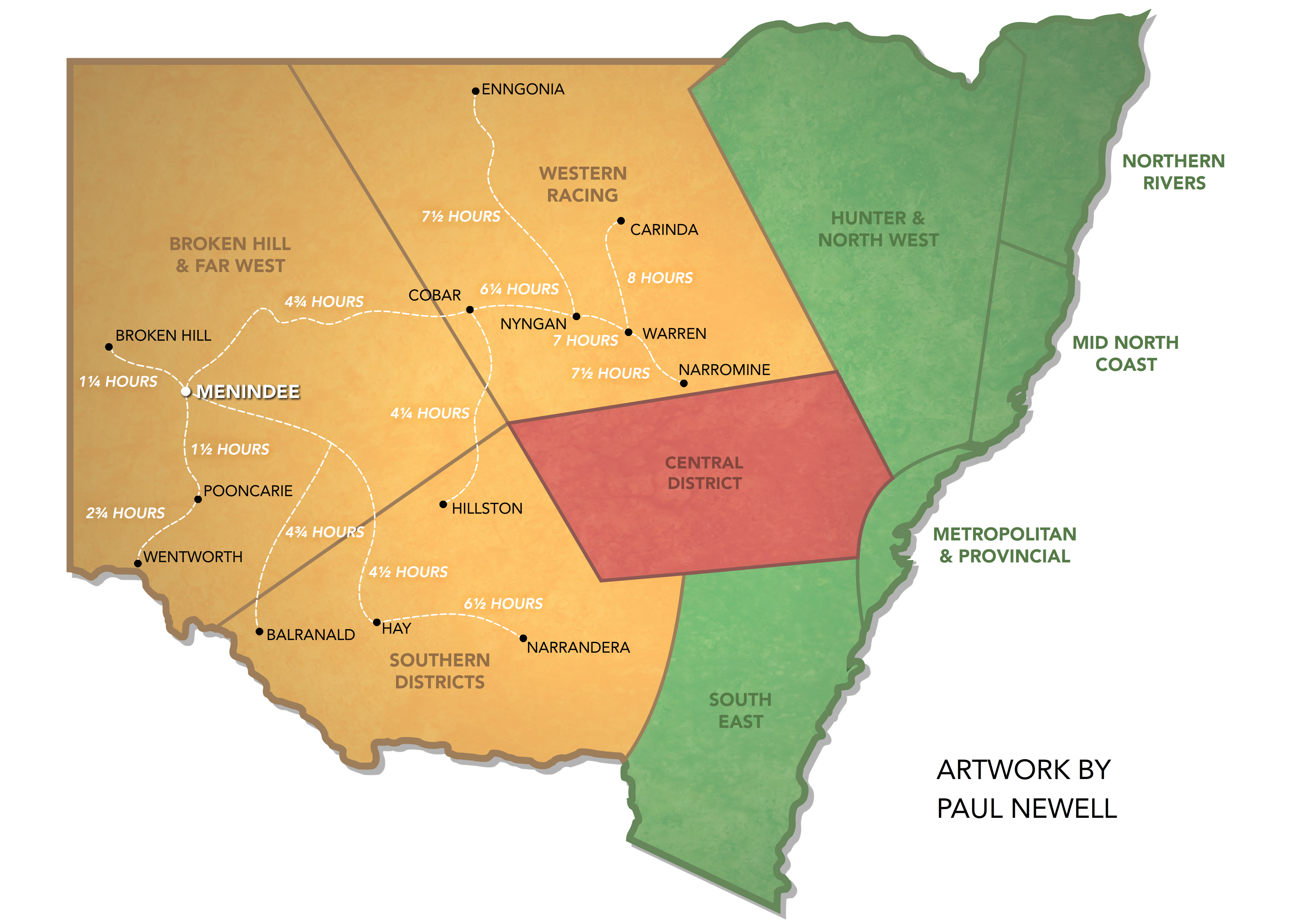 DESTINATION MARSDEN (one way)
Carinda - 8 hours
Enngonia - 7½ hours
Narromine - 7½ hours
Warren - 7 hours
Narrandera - 6½ hours
Nyngan - 6¼ hours
Balranald - 4¾ hours
Cobar - 4¾ hours
Hay - 4½ hours
Hillston - 4¼ hours
Wentworth - 2¾ hours
Pooncarie - 1½ hours
Broken Hill - 1¼ hours