By Chris Scholtz
High-profile trainers Peter Snowden and Bjorn Baker will take a break from their hectic autumn carnival preparations to add their weight to the launch of the 2020 Albury Gold Cup
Carnival.
The pair will travel from Sydney to appear as guest speakers at the annual sporting luncheon that launches the carnival at Albury's Commercial Club on Friday 6 March.
Albury Commercial Club is the major backer of the two-day carnival and has sponsored the Albury Gold Cup for more than a decade.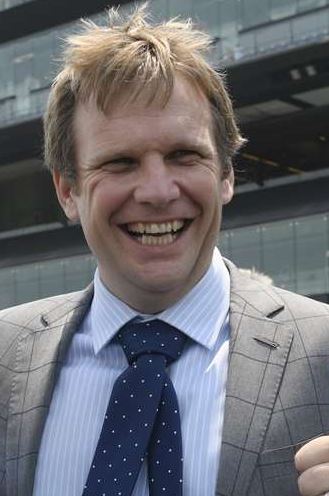 Peter Snowden and Bjorn Baker [pictured left] are looking forward to sending runners to this year's Albury carnival, to be held over two days on Thursday 19 March and Friday 20 March.
The 2020 Commercial Club Albury Gold Cup Carnival will offer record prizemoney of more than $770,000 plus bonuses.
The Commercial Club Albury Gold Cup (2000m) rises by $20,000 and will be worth $200,000, making it one of the richest country feature races in Australia.
Peter Snowden has made two previous unsuccessful attempts to win the Albury Gold Cup, with Peck and Kukri in 2013 and 2014, when he was head trainer for Sheik Mohammed's Darley stable. Baker has had runners at past Albury carnivals but is yet to have a starter in the Listed feature.
Albury Racing Club chief executive, Steve Hetherton, said the club was fortunate to secure the Group One-winning trainers for the carnival launch.
"We are very fortunate that both Peter and Bjorn have agreed to take time out from their hectic schedules to come to Albury," Hetherton said.
"With the Sydney and Melbourne autumn carnivals in full swing and Group One races in Sydney and Melbourne the following day, we are indeed grateful that they are lending their support to the launch of our carnival."
The confirmed attendance of Snowden and Baker adds to the list of high-profile racing identities that have launched the Albury carnival.
Damien Oliver, Hugh Bowman, John Messara, Peter Moody, Lee Freedman, Jim Cassidy, Glen Boss, Tommy Berry and Henry Plumptre have all attended the launch in recent years.
Albury Racing Club anticipates record crowds will attend this year's carnival after the 2019 Albury Cup meeting had to be abandoned before the first race after the track was saturated by a deluge on race morning.