By Tony Megahey
Crack Queenslander Quayde Krogh rode a phenomenal 166 winners as an apprentice in his home state, and he plans to be 'airborne' if his rapidly reduced allowance results in less NSW opportunities leading into Monday's TAB Cowra Services Digger's Cup meeting.
Krogh's strike rate saw him indentured to Chris Munce and then on loan to the Waterhouse and Bott stable, and Quayde logged up extended flying hours to the more remote Queensland country meetings as he trained to become a commercial pilot.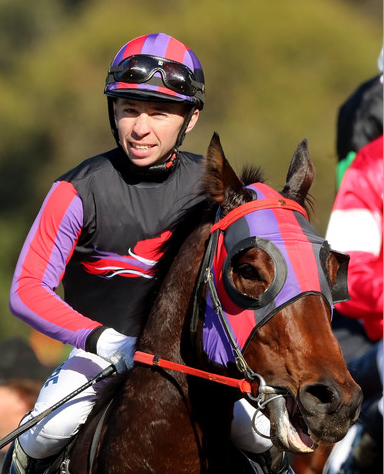 The 27-year-old Krogh [pictured left] reduced his claim with 33 NSW winners last season and four in the current.
Most notably, he gave a polished rating display for Gai on Penske to win the Mudgee Gooree Cup in May, and on Monday claims half a kilo on the promising last start Joseph and Jones winner Boston Ivy ($4.80 on TAB fixed odds).
Boston Ivy led to win unextended carrying 57kg in a recent Orange maiden and makes strong appeal with just 53.5kg after Quayde's claim in the Vale Lenny Crowe Class 2, 1375m.
The Barbara Joseph and Jones stable are regular winners at the popular Central Western track, and are upbeat about the prospects of stablemates Athonis ($4.20) and Inch Perfect ($11) back in grade and value odds in the traditional Cowra Services TAB $22,000 Digger's Cup BM 74 (1375m). And also Boston Ivy, who has made significant progression.
"Quayde is an exceptional apprentice, had to be to get a start with Gai and I'm surprised he hasn't got more rides - hope he's flying for us," Barbara quipped.
"It's so competitive and tough when they outride their claim, but we've had success with him and we're in a winnable race with this mare [Boston Ivy]," offered Barbara.
"It took us a while to get her switched on and the way she's worked since, she can go on with it. She's drawn, got the gate speed to be in front on a leaders track and Quayde understands her from the Orange win. We like her."
Barbara, the first female trainer to win the Doncaster in 1989 with Merimbula Bay, assessed the chances of Athonis and Inch Perfect in the Digger's Cup.
"They can both improve at odds back in grade, especially Athonis. He was disappointing last start, might have picked up a hoof corn or some jarring.
"But his work since has been as a good as when he was around the money in harder Cup races. He ran well in really strong Moruya and Bega Cups.
"He's back to a benchmark 74 with the claim. And he's a front runner on a leader's track.
"Inch Perfect is a handy mare, she raced at Warwick Farm and we scratched her from another city race for this grade.
"She ran some decent regional races with around 60 kilos so she's well placed with 54kg in this grade."
Cowra at present is a good four track rating in fine weather.
View the final fields with full form & race replays for Cowra here