The 2018 Bathurst Cup Legends Raceday on Sunday 11 February promises to be a standout as a Country Showcase Meeting with total prizemoney of $275,000.
John Letts, special guest on the day and known fondly to many as 'The Punter's Pal', rode 2,350 winners in a career spanning 29 years that took him to the United States, Africa, Malaysia, the Philippines and Mauritius.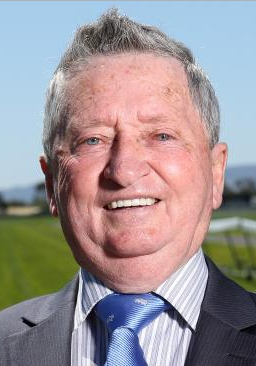 He was twice successful with the Melbourne Cup with his winning victory in 1972 on Piping Lane being his first ride around Flemington. John repeated his success in 1980 on Robert Sangster's Beldale Ball, trained by the late Colin Hayes.
John Letts [pictured left] is a member of the Racing Hall of Fame and was also awarded an Australia Medal in 2016. The master horseman will conduct live interviews trackside and will be on hand to meet racegoers.
As a Country Showcase meeting each of the eight races on Bathurst Cup Legends Raceday offers a minimum $30,000 in prizemoney.
Bathurst Thoroughbred Racing's General Manager, Michelle Tarpenning, said that over the last six years the Bathurst Cup Legends Raceday has developed a reputation for a great day of racing and trackside entertainment.
"This year is shaping up to be one of our best ever with something for everyone," she said.
The eight-race program includes the 1800m Bathurst Cup Showcase, the Gold Circle Cup Class 4 1300m, the Hugh Bowman Maiden Showcase Cup 1100m, the Bill Aspros Showcase Cup 1200m, The Barb Showcase Cup 2700m, Ida Traill Showcase Cup 1300m, Tulloch Showcase Cup 1200m and Rising Price Showcase Maiden Cup 1300m.
Gates open at 11 am and there will be a free sausage sizzle and live music, with marquee packages still available. For further information go to Bathurst Thoroughbred Racing or ring (02) 6331 2719.