By Tony Megahey
Larrikin trainer Joe Cleary, on a winning streak, and Kembla's Donna Grisedale are the stables to follow at Saturday's Moruya Easter Cup TAB meeting.
Cleary, coming off recent winning doubles at Canberra and his home track Queanbeyan, provides promising favourites amidst five runners on the six-race TAB program.  Grisedale, following recent winners at Kembla and Queanbeyan, has contenders dropping in grade from tougher Kembla assignments.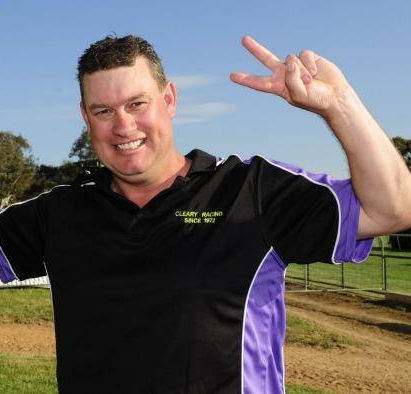 "Tell the punters, Hard Core is the Cleary's Easter present, he's no bunny and he'll go on to better races," Joe Cleary [pictured left] chuckled.
"Our stable is bubbling along nicely, we've got some promising types coming through - Hard Core is our best on the day. He's one of Gerry Harvey's, impressive.
"An All Too Hard two-year-old taking on older horses, but he went enormous winning an open trial at home and he's come on super from a Wagga placing where he needed the run. He's drawn the rails and that's always a big asset at Moruya where you need to be right on the pace. That's where Jason (Devrimol will put him for sure."
Hard Core contests a Prior's Bus Services Maiden (1010m) with 56kg for Devrimol.  While Hard Core has genuine upside, the majority of the opposition in a modest maiden have had numerous chances: "Yep that's it; it looks the right race to get the maiden out of the way."
Cleary also has strong prospects in the opening event, with Mossy Girl contesting a Country Racecourse Development Fund Class I and Maiden (1650m): "She's going a lot better this prep; closed off really strong running second at home, she'll appreciate out to a "mile" again and drawn nicely in the right race."
Cleary is just hoping to be competitive with Constitutional in the opening event, Battlescar in the fourth race, and Creative Vision in the final event, where he says Matthew Dale is likely to provide the winner.
"Matty has two in that have shown ability, I see he's double-booked Kayla Nisbet, so whichever one he goes with, is the horse to beat, no risk.
"Constitutional is another one of Gerry Harvey's - he was with Bjorn Baker for a couple of trials, the horse has ability but drawn wide is the worry, but will appreciate being out in distance.
"And oh my - Battlescar, has ability, looks and works like Tarzan but races like Jane - last prep I'd say unless he puts in here."
Grisedale has strong prospects with Smiling All in the fourth event, Coloane in race five that have been competitive in tougher races at Kembla and unraced Battle Anthem a big watch in a maiden (race 3) resuming off Canterbury trial last November.
Moruya, on the AMH Auto-sponsored Easter Cup day will race on a good four track rating in fine weather.
View the final fields with full form & race replays for Moruya here