Clarence River Jockey Club has made an important change to the race meeting schedule at the Grafton Cup carnival in July. In the first change to the agenda in almost 20 years, the five-meeting carnival will be held over a period of 15 days instead of the traditional 10 days.
The change to the schedule is due to school holiday date changes that impact on the Westlawn Black and Gold Family Raceday. The Westlawn meeting has traditionally kicked off the carnival on a Thursday and has offered a big day of school holiday entertainment for local families.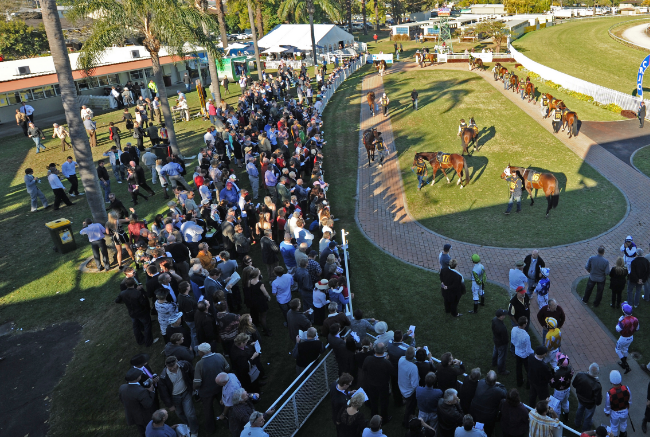 The Grafton Cup Prelude (2200m) and John Carlton Cup (1200m) head the Westlawn program as ballot free lead-up races to the Ramornie Handicap and Grafton Cup that follow on the next Wednesday and Thursday.
The Westlawn meeting will now be staged on the first Sunday in July, giving sprinters contesting the John Carlton Cup 10 days to the $160,000 Ramornie Handicap (1200m)and stayers 11 days from the Prelude to the $160,000 Grafton Cup (2350m).
Sponsor Westlawn Finance has ensured the Black and Gold Day remains free to the public.
"The board of the CRJC and Westlawn Finance are committed to keeping the Westlawn race meeting as a day when everyone can attend," said CRJC chairman Graeme Green. "With the unfortunate loss of the school holiday date, it was imperative that we acted to ensure this important first day of the carnival remained open to all."
Green said the new race schedule will be welcomed by owners and trainers.
"Having the Prelude and John Carlton Cup a week before the big days was always a tight schedule," he said. "The new agenda will allow horses to fully recover from the first day before getting back on the track to compete on the carnival's biggest days."
ALBURY CARNIVAL RETURNS TO TRADITIONAL FORMAT
Albury Racing Club has also confirmed that the 2019 Albury Cup Carnival will revert to its traditional format of being run on two consecutive weekdays in March.
This year's carnival was conducted over two meetings six days apart due to Albury being awarded the Southern Districts heat of the Country Championships for the first time. The Championships heat took the spotlight on the Sunday preceding the Albury Cup meeting.
Albury will again conduct the $150,000 SDRA Country Championships heat over 1400m in 2019 but that meeting will be held a month before the two-day carnival on Saturday February 23. The $670,000 Albury Gold Cup Carnival dates for 2019 are Thursday March 21 and Friday March 22.
The March 21 meeting will feature the $50,000 Albury City Handicap (1175m) and $40,000 Albury Mile (1600m) while the $180,000 Commercial Club Albury Cup (2000m), $80,000 Albury Guineas (1400m), $50,000 Albury Flatknacker (900m) and $40,000 Adrian Ledger Memorial (2400m) headline the program on March 22.