It is almost exactly 30 years since Gordon Yorke won the Victoria Derby with Fire Oak and the trainer is now meticulously planning making the most of his return to racing.
Yorke, who won't divulge his age only to say he is "old enough to know better", will saddle up six starters – four in races and two in trials at Albury on Saturday.
Gordon Yorke [pictured below] now trains at Albury after relocating from Grafton following a lengthy disqualification which he believed meant the end of his career.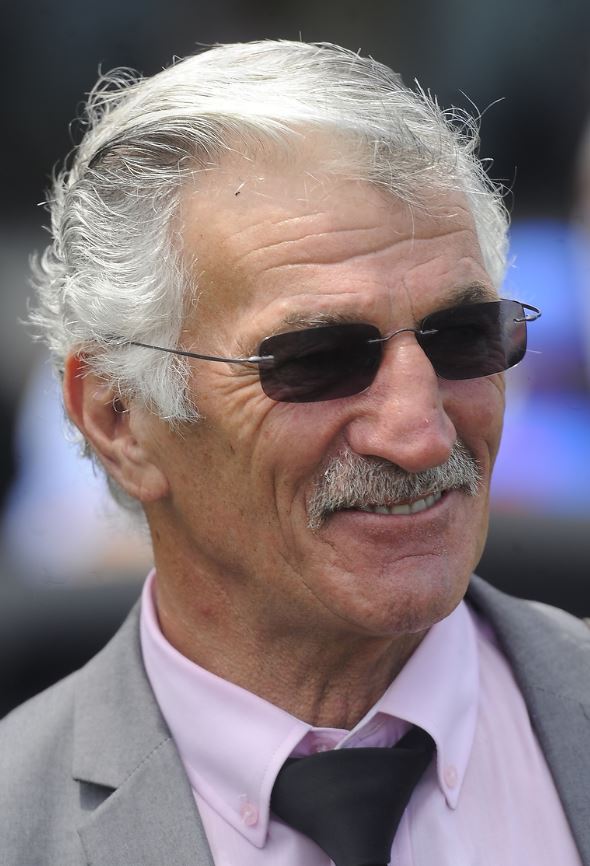 "I was never going to come back and had retired, but I wasn't any good at it," he laughed. "I'm having a ball now."
Yorke will start Purple Cup who was his first winner back on his first day with runners at Cootamundra a few weeks ago.
He describes Purple Cup as capable of winning "a Group 2 race at the right time and right place" and for now is to content to keep placing the galloper on a path towards better quality races.
Yorke knows a bit about winning majors as he claimed the 1990 Victoria Derby with maiden racehorse, Fire Oak. The wily trainer is old school, still shoes his own horses, doesn't have time for social media and instead is content in the company of his horses.
He has fond memories of Derby Day, but for now, is glad to be back training with a bigger group of horses than he expected when he moved to Albury.
"People would give their eye teeth to experience what I did with Fire Oak," he said. "I put a lot of time into training him right and that (planning and training correctly) is what I still do to this day."
Yorke has a lot of time for Purple Cup and knows the family traits having also trained his dam and half relation. Purple Cup is the best of his quartet in the Benchmark 66 (1175m), but the trainer also has a good opinion of In Fashion which starts in the Class 2 (1500m).
"Purple Cup hadn't won first-up before or over 1200 metres so he was able to do that and he has improved since his first start back," he said. "He could develop into something pretty good.
"I also have an opinion of In Fashion who would be better over more distance, but I still think she can win."
Yorke's other starters are Our Dreamsarefree who looks ready to win after finishing second last start and also Charging Miss.
"Charging Miss has drawn a decent barrier this time. She is only tiny and the 57 kilograms is enough weight for her to carry," he suggested.
"Our Dreamsarefree came across from New Zealand and can improve."
Yorke's day won't end there with two trial horses competing after the last race.
"I'm loving training again. It has changed a lot from when I stated, but winning is still the same," he said. And Yorke knows a thing or two about that.
View the final fields with full form & race replays for Albury here