World Class Training Site For Our Future 'Rising Stars'
Interested? Click here for Registration of Interest Form.
Either the Motel and Racing Complex at Hawkesbury Racecourse, or the Sydney International Equestrian Centre (SIEC) are the centres used for the NSW Racing industry training.
Tomorrow's apprentice jockeys begin academy style training during several blocks throughout the year. The Hawkesbury facilities include modern Motel accommodation, training rooms, fully fenced grass and sand gallop tracks, enclosed training areas for riding coaching, access to working racing stables and direct contact with licensed Jockeys and Trainers, and onsite access to Hawkesbury race meetings and barrier trials.
The Sydney International Equestrian Centre's facilities include modern stables with wash bays and lunging arenas, fully fenced 1200m grass and sand gallop tracks, an indoor sand arena, numerous training and dressage arenas, kiosk and amenities block, training room, 40 person accommodation blocks and kitchen and dining facilities.
Prospective apprentices apply directly to Racing NSW where they will be interviewed before beginning the 'talent identification' phase of the program.
Talent identification has been used successfully by other sporting organisations for a number of years. It is expected that by employing this process the result will be less frustration for employers, trainees and Apprentice School teachers alike. There is clear evidence to suggest that intensive initial training affords better riders.
Students are signed up as trainees only upon completion of the intensive training block. At this stage, it is envisaged that riders will have become competent in basic safe horse handling practices, riding and stabling skills. Prospective apprentices and other new industry employees will complete half of their compulsory modules in the first year of their training and following the same program as their peers. This will make a huge difference for those apprentices and employers who have had to juggle the demands of training with work commitments and often in an environment where other local apprentices are completing a different program.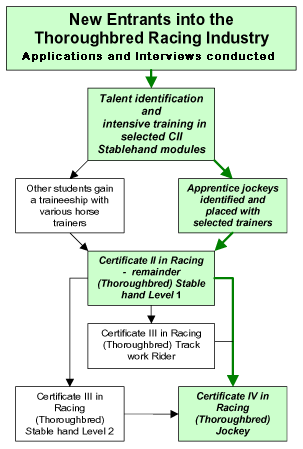 Preferred pathway for an apprentice jockey is highlighted. Other pathways and careers are available with no impediments to eventually becoming a jockey.
Academy style training will save employers:
1. Actual costs associated with starting a new person in a stable and providing initial early training only to find they are not suited to hard physical work and split shifts.

2. Reduced release time for off-the-job training. As new entrants will receive a great deal of their basic training in a block fashion there will be less release time required from the stables once the students are signed into traineeships.
Features of the academy program
Initial talent identification workshops to be held at Hawkesbury Racecourse or the Sydney International Equestrian Centre and Orange
Delivery of training by highly experienced current and former Jockeys and Horse Trainers
Greater use of Stewards and other industry mentors in training and assessment
Safety and equity issues addressed early
Placement of apprentices with horse trainers who value training
More sharing of valuable resources (both human and physical) between centres around the state.
The advantages of the academy style of training
Use of a world class, safe facility will inspire greater confidence from potential apprentices and their parents.
There will be a greater awareness of safety issues by all new racing industry entrants.
There will be greater confidence from industry in the horse riding abilities of potential apprentices.
There will be a more logical sequence of module delivery with prerequisites adhered to and increased assessment consistency.
And importantly, there will be less disruption of race riding by apprentices towards the end of their apprenticeship.
If you would like to enrol, or like more information, please click on the application form at the top of this page, or contact The Industry Training Department on (02) 9551 7500.
Also, Racing NSW requires horses to assist in the delivery of the program. Many individuals have donated / loaned their horses to the program and Racing NSW appreciates being able to access these horses. If you have a quiet horse and you believe it would be suitable for the program please contact The Industry Training Department on (02) 9551 7500.