Beginner's Guide to ... Racing
Where did it all start?
Australia's first official race meeting was held in Sydney over 200 years ago, Monday 15th October 1810, on newly designated public land which Governor Macquarie named Hyde Park.
Just how important is it?
Thoroughbred racing in NSW is a time honoured tradition which lies at the heart of many Australians and contributes significantly to the economy of NSW, being one of the State's major employers.
The industry has over 50,000 participants providing 16,000 full time jobs, many of which are in regional areas.
In NSW alone there are 136 race clubs conducting 767 race meetings each year at 125 race tracks. Prize money distributed each season is $150 million.
The language of racing:
Below is a brief glossary of some key terms used in racing you may have been dying to know. Try out these terms with your friends at the track and sound like a real professional.For a comprehensive list of racing terms visit our Reference Manual.
HANDICAP RACE: a race where horses are assigned various weights according to performance in order to equalize the winning chances of each. The allocated weight – e.g. 56 kg - is carried by the horse by totalling the jockey's weight, saddle and race gear. In NSW handicaps are allocated utilizing the Benchmark system of handicapping
SET WEIGHTS RACE: a race in which weights are apportioned to horses according to a pre-published scale either due to number of races previously won, age and sex or a combination of these
WEIGHT FOR AGE RACE: A set weights race in which weights are apportioned to horses solely according to their age and sex. Many of the best Group and Listed events are run at Weight for Age.
MAIDEN: A horse which has not won a race.
GROUP AND LISTED RACES: Describes the highest quality races. Group 1 is categorized as the highest level, followed by Group 2, Group 3 and Listed. Also known as Black Type because reference to these races appears in sales catalogues in bold typeface. Horses with Black Type in their pedigrees are more highly regarded and carry greater value at sale or when used for breeding. Some of the top Group 1 races conducted over the Sydney Autumn Carnival and their category type are:
Track Ratings Explained
All racetracks are given a rating and scale (from 1-10) on the day of a meeting to describe their condition. The ratings are as follows:
| CATEGORY | SCALE | DESCRIPTION |
| --- | --- | --- |
| FIRM | 1 | Dry, hard track |
| FIRM | 2 | Firm track |
| GOOD | 3 | Track with good grass coverage and cushion |
| GOOD | 4 | Track with some give in it |
| SOFT | 5 | Track with a reasonable amount of give in it |
| SOFT | 6 | Moist but not badly affected track |
| SOFT | 7 | More rain-affected track that will chop out |
| HEAVY | 8 | Rain-affected track that horses will get into |
| HEAVY | 9 | Wet track getting into a squelchy area |
| HEAVY | 10 | Heaviest category track - very wet, towards saturation |
Distances Demystified
Races vary in distances, and depending on the horses pedigree, it is usually suited to a typical distance over another. The main categories of distance are:
Sprints: 1,400m or less
Mile: 1,600m
Middle Distant: 1,800m to 2,400m
Staying: more than 2,400m
Racing NSW Form Guide
Below is a typical sample of our Horse Profile Form Guide.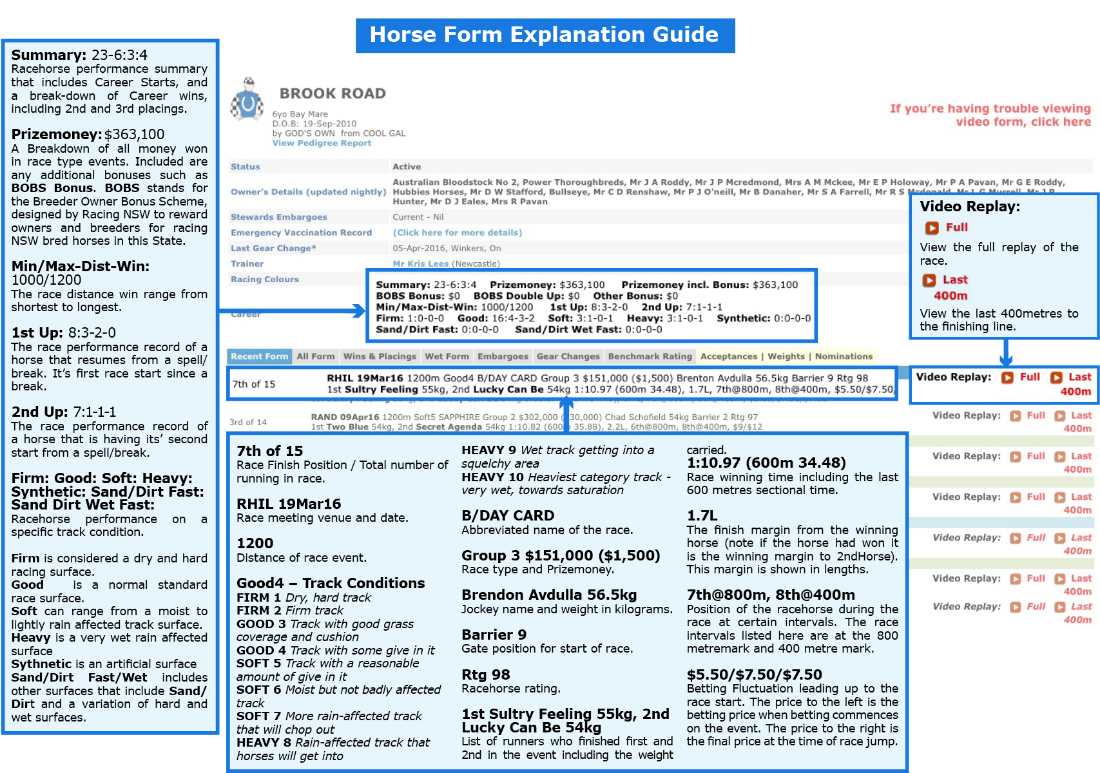 How to read the form guide
PLEASE NOTE: The information displayed is made up for the purpose of an education guide only.