Beginner's Guide to … Horses
The Thoroughbred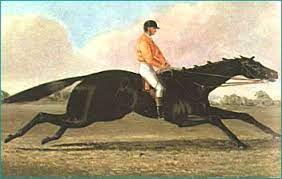 'Thoroughbred' is a breed of horses which was developed in 17th century England. The typical thoroughbred is known for its agility and speed, and is generally considered spirited and bold.
All thoroughbreds eligible to be racehorses must be registered with the 'Australian Stud Book', which maintains the integrity and standard of the Thoroughbred breed
The Barb (pictured left) foaled in 1863 was one of the early Thoroughbred champions in NSW.
Glossary
FILLY: a female horse up to 3 years of age.
COLT: a male horse up to 3 years of age.
GELDING: a male horse which has been castrated is termed a gelding at any age.
MARE: a female horse from 4 years of age upwards.
HORSE OR ENTIRE: a male horse from 4 years of age upwards. Can also be referred to as a stallion.
RIG: a male horse who has either one or both testes undescended, or a male horse that has been improperly castrated.
BROODMARE: once a female horse is retired to stud duties.
STALLION: once a male horse has been retired to stud duties.
SIRE: the father of a horse
DAM: the mother of a horse
FOAL: a newborn up to one year old
YEARLING: a one year old
Identity
As all racehorses are registered through the Australian Stud Book, they are required to be freeze branded, DNA tested and have a microchip.
What do the brands mean?
All registered racehorses have 2 freeze brands , one on each shoulder which not only helps to identify each individual horse, but also tells us a few details as well. Each stud, owner or breeder have their own distinguishing brand that goes on the horse's near shoulder (left hand side). The brand on the off should (right hand side) is numerical and is made up of 2 parts. The upper number signifies the order in which the foals were branded, while the lower figure represents the last digit of the year in which the foal was born (for example '1' could mean 2011, 2001, or 1991).
Pedigree & Conformation
Nobody knows the recipe for creating the perfect thoroughbred racehorse, but many industry professionals would place considerable weight on a horse's pedigree.
Since many thoroughbreds are sold for large sums of money as yearlings, before they have ever step foot on a racetrack, emphasis is placed on pedigree and physical conformation for determining racing potential. A pedigree not only reveals the sire and dam lines, but also shows the performance records of a horse's ancestors.
Yet there are many feel good stories in the industry of horses with less than average pedigrees who have sold for next to nothing and yet have risen to be true champions.
What to look for in a racehorse at the track
When looking at horses in the parade ring, here are a few tips that can help you pick a potential winner:
A sleek and shiny coat, a sign of health and wellbeing
A  good easy stride, athleticism is clearly evident
Appears relaxed but alert and is not wasting nervous energy and sweating up prior to the race
Well-toned muscles a with a hint of rib, showing peak physical condition
Age
Horses can begin their racing career as early as 2 years old, and many retire by the age of 4 or 5. Healthy, fit horses can race for years, with some still running beyond 10 years of age. Many racehorses tend to be at their peak condition at the age of 4 or 5.
All thoroughbreds in the Southern Hemisphere share 1st August as their birthday. This is to help standardise ages for comparison because of the historical lack of records of actual birth days
Racing Performance
There are several factors that will affect an individual horse's success on the track. Some aspects are inherent, such as breeding and conformation, while others are environmental factors, such as the trainer, jockey, nutrition and location of training. It can often be difficult getting the balance right for each individual horse, but the right combination can lead to great success.
Many different people are involved in the day to day life of the racehorse, from the farrier to the veterinarian, the strapper and track work rider. Check out the Beginners Guide to careers in racing to see some spotlights on these professions.
Life after racing
Breeding – The very best male racehorses can retire to become stallions and hopefully pass on their best characteristics. Many female horses will retire to stud at the conclusion of their racing career.
Retraining – Not all horses are destined for a career in breeding (including geldings that cannot breed) and therefore they can pursue an active career in equestrian activities such a competition, pleasure horses and security and mounted police.
Team Thoroughbred NSW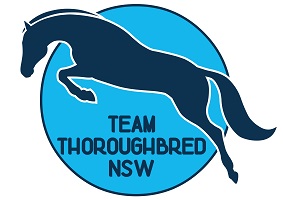 Team Thoroughbred NSW is the heart of Racing NSW's commitment to the Thoroughbred horse in every stage of its life, especially retirement.
Racing NSW equine welfare initiatives are built on the principles that all Thoroughbred horses should be treated equally irrespective of success or ability and that all Thoroughbred horses should find a suitable new home following their racing careers.
These principles are the foundation of Equine Welfare Local Rule 114 ('LR114') which was introduced by Racing NSW in October 2017. This rule is in addition to Australian Rule of Racing 231 and is designed to ensure the welfare of thoroughbreds throughout their life whilst in the care of NSW Thoroughbred Industry Participants, and in particular how they are protected at the stage of their retirement.
Racing NSW has released Minimum Standards and Guidelines of Equine Welfare, which contains compulsory Minimum Standards and also 'best practice' Guidelines for the NSW Thoroughbred Racing Industry. 1.5% of prizemoney from every Thoroughbred horse race in NSW is directed to the Equine Welfare Fund to support Racing NSW equine welfare initiatives.
Racing NSW veterinarians, investigators and stewards conduct retired horse audits to ensure ongoing traceability of horses in their retirement, provide advice to new owners, and in a small number of cases identify welfare concerns. Racing NSW provides a regulatory framework to deter and investigate those participants who don't appropriately care for and rehome their horses.
The vast majority of NSW Thoroughbred Industry Participants provide exceptional care for their horses throughout their lives and find suitable homes for their horses upon their retirement from racing. In instances where owners have been unable to find a suitable home, Team Thoroughbred NSW is on hand to assist.
Racing NSW has invested significantly in acquiring properties for the purposes of equine welfare and the Team Thoroughbred NSW currently operates out of 6 sites. On these properties, horses that are surrendered to Team Thoroughbred NSW are assessed, retrained, and rehomed for a variety of new pursuits.
For further information about Team Thoroughbred NSW and Racing NSW Equine Welfare initiatives, visit www.teamthoroughbred.com.au or contact us on (02) 9551 7500.