Beginner's Guide to ... Fashion
Choosing an outfit for the races can be difficult at the best of times. You can go racing without having to dress in your finest, but big events such as the Sydney Carnival and spring festivities provide the perfect excuse to frock up.
Dressing up for the races is unlike dressing for any other event, there are few do's and don'ts to keep in mind when planning for your outfit:
Female Fashion Etiquette
Remember it's Daytime
Dress appropriately and stick to etiquette. Think classy, sophisticated and head to toe style.
Do think well cut dresses that fall to the knee or contemporary takes on the classic suit.
Don't wear outfits mores suited for a nightclub. Leave the short skirts, midriffs and sequins for the evening.
Do remember to bring a jacket or pashmina to cover up when the sun begins to set. You will be outside most of the day and don't want to be cold at the end of the day.
Don't be heavy handed with the make-up. The natural light will expose excess application, so make sure you think natural well blended make-up.
Stylist Tip – If you opt for a revealing neckline, then the hemline should be below the knee. It's all about balance when dressing for the races (2012 Sydney Carnival Style Ambassador - Kelly Smythe)
Fashion by Season
Spring – the time to embrace bright bold colours and floral prints. Open toed shoes, wedges and pumps are appropriate shoes for spring and summer, and hats and fascinators incorporating bright colours, florals and sinnamay (straw).
Autumn – time for tailored suiting and felt or structural hats and headpieces in muted tones; think black, grey, tan and aubergine. Lay off the fake tan and shoestring straps. Closed toed shoes and booties are appropriate with stockings for Autumn and Winter.
Black and White are ALWAYS in fashion!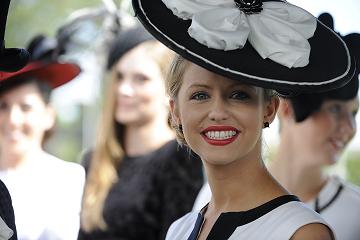 Above: Black and White is a must on Derby Day
Headwear
During carnival times and big race days, you should always wear a headpiece of some kind. Whether it's a hat or fascinator, pick something that's right for the season.
Take your outfit with your when shopping for a headpiece to help match the colour and tones.
Accessories
Matching shoes and handbag or cute clutch are the perfect accessories to complement your outfit.
Avoid wearing to much jewellery or bling on a race day. Your shoes, handbag and hat should be enough
Handbag essentials
There are a few things a girl should always have in her handbag, but some MUST HAVES for the races include:
Sunglasses (particularly in Spring/Summer)
Lip stick (for touch-ups) which you can also use as a blush if needed
Cotton tips – perfect for fixing eye and lip makeup
Band-Aids – for blisters
Party Feet
Safety Pins and bobby pins – for emergency repairs!
High Heel Etiquette
The races is an all-day affair and can involve walking around (in the grass) and plenty of standing up. The shoes you choose to wear can make or break your day, so ensure you choose wisely.
Do wear shoes with a thicker heel that can prevent you from sinking into the grass
Don't wear brand new shoes (break them in first)
Do try party feet to help cushion the feet
If you're worried about surviving in your shoes until the end of the day, take a second pair of shoes or flats to help you make it home with your dignity in tact – Leaving the track with your shoes over the shoulder is NOT a good look!
Dressing for Gentlemen
Picking everyday office suits with a bold shirt and tie combination is the standard attire, however don't be afraid to experiment. The modern day man is beginning to pay much more attention to detail.
Think about incorporating patterns, a fine pinstripe in your suit, a check on your shirt, a stripe in your tie.
Do pay attention to your shoes, pointed boot and stylish lace-ups might be your thing, but always make sure they are polished and clean and don't clash with your outfit.
Do match accessories and pay attention to detail. The extra touches can make a great difference with cufflinks, belt, watches, ties and ties clips and a hat if you choose to wear one.
Do wear a flower in your button hole if the occasion calls. Big carnival days have a certain flower to match the day, for example the Golden Slipper is a yellow rose.
Fashions on the Field
For those prepared to take fashion to the next level and compete in Fashions on the Field, be sure to take close note of the rules for each category you may enter. Categories range from classic to contemporary, and clubs will often include their own local awards as well.
Typical rules for the various race day categories for the autumn include:
Classic Women's Racewear
Hat or headpiece is compulsory wool or felt for Autumn (no sinnamay)
Attention to detail with all aspects of the outfit such as shoes, handbag and accessories
Understanding and interpretation of Classic Racewear and current trends (think tailored, elegant, traditional)
Grooming and deportment
Suitability of the outfit for Autumn Racing, Sydney Carnival, and the individual
Millinery Award
Style and design of the millinery (originality & concept)
Quality of workmanship of the Milliner
Appropriateness of the millinery for Autumn (wool or felt)
Suitability in complimenting the individual's total outfit


Above: Autumn Fashion on the Field - BMW Sydney Carnival 2012