Apprentice Jockey
You will ride horses in races and have the potential for an exciting and rewarding career. You will approach trainers and owners to secure rides, follow instructions on the race plan and communicate the horses performance. You will be running your own business.
Personal Qualities
You have a small frame and ideally weigh less than 50kg. You enjoy physical activities and outdoors work, and have a strong will to win. You need to be motivated, well presented and have excellent communication skills. You can follow instructions, work well both unsupervised and with others.
Qualifications and Experience
You will gain a Certificate IV in Racing (Apprentice Jockey)
Jockeys complete a 4 year indentured apprenticeship with a Racing NSW licensed trainer. You learn both on-the-job at work and off-the-job through Racing NSW Registered Training Organisation, NSWTRB Training Ltd. You will learn about riding horses in trackwork, barrier trials and racing. You will also learn a wide range skills and knowledge related to the racing industry.
Job Opportunities
At present, there is a shortage of jockeys, and there is a need for more apprentices.
Apprentice Jockeys are paid a set wage, which increases each year during the apprenticeship. In addition, race rides and barrier trial rides are paid extra, as well as a percentage of any prizemoney earned by horses you ride. Successful jockeys and apprentices may average between 10 and 20 race rides per week. Earnings from race rides and prize money are held in trust by Racing NSW until the apprentice jockey turns 18 years of age, or longer if you choose.
A typical working week for a race riding apprentice jockey involves riding track work 6 mornings per week, helping in the stables and with general horse care. This work is combined with riding in barrier trials and at several race meetings each week.
Latest Racing News
Apprentice jockeys are to reap the benefits of recent Board decisions related to outcomes arising from Apprentice Jockey forums conducted with industry representatives;
An extension of indentures for up to one year for apprentices who have not out ridden their claim
Adherence to an Apprentices Code of Conduct and a Trainer / Employer Code of Conduct
Apprentice Trust Accounts - an optional extension for Apprentices to leave their money in a Trust Account by extending the current payout age from 18 to 21 years
Placement of apprentices with suitable trainers using a Criteria List developed by Racing NSW
It is possible to view the Codes of Conduct (Apprentice and Employer), the Trainer Selection Criteria List, and to view and download the Extension to Indenture form and Trust Account forms by clicking here.
Apprentice Jockey - Minimum Wage
Racing NSW has approved an increase to the minimum wage for Apprentice Jockeys in NSW. Commencing the first pay period on or after the 1st April 2012, the minimum gross weekly wage payable to Apprentice Jockeys employed in NSW is;
• in the period of indenture before the Apprentice has obtained a licence to ride in a race, not less than the award for a stablehand/rider relevant to the Apprentice's age and experience.
• from the date in which the Apprentice has obtained a licence to ride in races not less than the rates listed below:
| | | |
| --- | --- | --- |
| New rates | Wages | Superannuation |
| 1st Year | $335.20 | $31.00 |
| 2nd Year | $395.60 | $36.60 |
| 3rd Year | $500.10 | $46.26 |
| 4th+ Year | $583.55 | $53.98 |
NB: Superannuation 9.25% from July 1, 2013.
The maximum charge for Board and Lodgings is unchanged at $80 per week.
*Superannuation
Employers must by law pay superannuation at the rate of 9% of gross wages into an approved Superannuation fund. Within 28 days of commencement of employment, employees should be issued a "Choice of superannuation fund standard choice form". This allows the employee to choose an eligible fund.
Forms can be downloaded from the Australian Tax Office website (www.ato.gov.au) or order hard copies by phoning the ATO's publications ordering service on 1300 720 092 (and quoting NAT Number 13080).
Additional voluntary superannuation contributions may be made by the employee up to an age based limit. Apprentices may like to contact the NSW Jockeys Association for further information about Superannuation options.
Wages – make payment by direct deposit
Commencing 1 April 2012, it is a requirement that apprentice wages are paid directly into the Apprentice's nominated Bank Account. This is usually by way of Electronic Funds Transfer (EFT), or direct cash deposit at the bank, or by Direct Debit. Trainers' who may be unfamiliar with the process of making payments by EFT or Direct Debit, please make contact with your bank, Racing NSW or NSWTA to seek relevant advice.
The 10 most commonly asked questions about becoming an apprentice jockey
1. How does someone become an apprentice jockey?
Anyone wishing to become a jockey in NSW can contact Racing NSW, the regulatory body for thoroughbred racing in NSW, which was established in June 1997. An extension of indentures is available for up to one year for apprentices who have not out ridden their claim
The Racing NSW Training Department and Racing NSW Stewards work together to provide suitable and effective training opportunities for people wishing to enter the industry. Racing NSW will assist a new entrant sign into a traineeship to ensure structured training applies.
Racing NSW provides advice, support and direction. Racing NSW assesses each case individually, before determining the most appropriate option in terms of organising an apprentice's indenture with a trainer.
If anyone, who wants to become a jockey, approaches a trainer directly, the trainer follows the same process and contacts Racing Training Dept. or Stewards.
An apprentice must initially be registered with a licensed trainer as a stablehand / rider and serve a probationary period with a Racing NSW trainer before being entering into an apprentice jockey indenture with that trainer. This process will occur following Academy style training.
For those who wish to become apprentices but have no practical horse skills, Academy style training offers practical and theoretical training.
Alternatively, you may wish to attend a course full time for six months or a year's duration. The prevocational course is suitable for all persons wishing to enter the racing industry and is not limited to just those wishing to become jockeys. Stablehands, strappers and trackwork riders are also encouraged to do this course.
2. How is an apprentice assigned to a trainer?
Experienced Racing NSW staff are integral to the process of placing an apprentice with a trainer. Training Dept staff and Stewards have regular contact with trainers throughout NSW and are aware of each trainer's situation. Racing NSW assess the working environment that each trainer can provide looking at all relevant aspects of on-the-job training provided, such as the suitability of a trainer to guide an apprentice's career and whether a trainer has a sufficient number of horses in work to give an apprentice enough track work and race riding experience. An apprentice is placed following a comprehensive process that also involves the apprentice's family and any other appropriate or relevant people.
3. How are accommodation arrangements determined for apprentices?
Racing NSW and the apprentice's family are involved in the process to determine the most suitable accommodation. There are various accommodation options available including living with the trainer's family or in accommodation at the stables or in a nearby apartment. It is not a requirement that apprentices live away from home and those that live close to the racing stables where they are indentured are encouraged to continue to live at home and travel to and from work each day. In each case, the choice is with the apprentice and/or their families where appropriate.
4. What training is offered to apprentice jockeys?
Each Racing NSW apprenticeship is 4 years, with an option for extension. During this time apprentices receive both practical and theoretical training.
Most of the practical training is received 'on-the-job' under the supervision of the trainer to whom the apprentice is indentured.
Racing NSW introduced Academy Style training so that a talent identification process could be undertaken and so that training of all apprentices throughout NSW follows the same timetable. The theoretical component for current 2nd, 3rd and 4th year apprentices is received at Apprentice Schools, which are conducted at selected racecourse centres around the state.
Racing NSW delivers the Certificate IV Jockey program under its Registered Training Company, and employs to deliver the practical side of training. Teaching is delivered by both qualified instructors and experienced Jockeys and Trainers who have been trained as Workplace Assessors and who have also completed a Mentoring and Coaching in the Workplace program. They offer practical advice, support, tuition and the benefit of their experience to apprentices.
Subjects studied include health and fitness for jockeys, nutrition, financial planning, communication skills, first aid, raceday procedures and video reviews of race rides. These subjects are based upon the national competencies of the national training package so that uniformity is maintained.
Apprentice School activities also comprise a practical component with learning aids that simulate the riding experience, such as the mechanical horse and Equisizer, used to improve riding skills and fitness.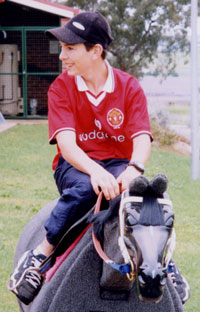 Apprentice riding the Equisizer
Racing NSW Stewards also regularly attend to provide advice with regards to race day procedures, including the inquiry process.
In order for apprentices to progress to jockey status and become licensed, they must regularly attend, and successfully complete, Apprentice School training.
5. How has apprentice training changed in recent years?
Changes that the Racing NSW has introduced include the following:
Uniformity of training programs throughout the state
Establishing Racing NSW own training company to deliver the training to our participants, employing experienced and successful Jockeys as instructors
Introduction of Academy style training
Training of former and current jockeys as apprentice mentors, to provide mentoring and tuition to apprentice jockeys
Introduction of workplace assessments whereby Racing NSW staff visit training stables to assess the development of skills acquired by apprentices during their on-the-job training
Restructuring of the placement policy to ensure apprentices are placed in areas and stables that provide maximum opportunity to gain on-the-job experience
Adjustment of weight claims for apprentices, within the country, provincial and metropolitan areas, to allow greater scope for race ride success.
Compulsory attendance at Apprentice School to obtain theoretical tuition, which complements 'on-the-job' training, and which provides nationally-recognised qualification, at Certificate IV level
Apprentice School visits by guest speakers and stewards to complement the curriculum
Introduction of the Racing NSW Rising Star Series, which will feature a series of apprentice-only race heats throughout NSW culminating in a Championship final
6. Are the training programs national?
Industry training programs in each Australian state are based on the national Racing Industry Training Package (RITP).
The RITP was developed to establish national competency standards for apprentice jockeys, track riders, stablehands and trainers. It provides structured training models for all skill levels and provides matching qualifications. In 2007, a review has been undertaken to refine the Certificate IV Jockey package to a more specific training model.
7. Have race riding opportunities for apprentice jockeys increased?
Race riding opportunities for apprentice jockeys have increased by 10% during the last ten years, as follows:
In 1997 - 98 Apprentices rode 12.71% of the total race starters in NSW By 2005-2006, the number has increased to 23.78%
| Season | % Apprentice Rides |
| --- | --- |
| 1997 - 1998 | 12.71% |
| 1998 - 1999 | 14.49% |
| 1999 - 2000 | 18.38% |
| 2000 - 2001 | 18.38% |
| 2001 - 2002 | 19.33% |
| 2002 - 2003 | 22.89% |
| 2003 - 2004 | 21.54% |
| 2004 - 2005 | 21.56% |
| 2005 - 2006 | 23.78% |
8. What support systems are available to apprentice jockeys?
All apprentices are encouraged to contact any or all of the following people should they require support and/or advice:
Industry Training Manager Maurice Logue - (02) 9551 7500
Industry Training Support Officer Malcolm Fitzgerald - (02) 6581 1486
Jockey Liaison Officer Ron Quinton (02) 9551 7500
Administrative Assistant/Training Coordinator Luke Millington (02) 9551 7528
Stewards - 02 9551 7500
The apprentice mentor in their region
9. What Next?
a. Before you are permitted to ride in barrier trials you must be registered for at least three months as a stablehand rider with a licensed trainer for whom you are going to be indentured. The rider must be assessed by the Racing NSW Training mentors or the Stewards before they can ride in a barrier trial. The rider must be a very competent rider before this assessment and the skills required, can take a number of months to achieve.

b. It is necessary for the employee to ride a minimum of 20 barrier trials successfully before being permitted to commence riding in races. When you have reached this stage your employer will be advised by the Stewards and Malcolm Fitzgerald.

c. Weight: to be a jockey, the ideal weight would be 45-48 kg at sixteen years of age for boys and 45 kg for girls.

d. The knowledge gained from the Certificate II in Racing-Stablehand course will provide you with the essential skills required to complete the higher level Certificate III Trackwork Rider / Stablehand and Certificate IV Jockey courses. Racing NSW's Training department strongly advises those wishing to enter the racing industry to either complete the Certificate II in Racing-Stablehand by full time attendance or enter the Academy style training talent identification program.
10. How do I become a Trainee?
Racing NSW can assist you with contacting a New Apprenticeship Centre (NAC) person who will sign you into the trainee system.
A traineeship generally takes 12 months to complete, although if you go on to be indentured as an apprentice jockey this will take longer.